It's estimated that 30,000 churches across the country will close due to the pandemic. It's critical that those congregations are replaced with new, Christ centered faith communities. Please choose one or two, and support our new "100 in 10" church planters with prayer, resources and funding.  Take a look at the amount of support still needed.
Shalom Bridge Congregation
On this rock I will build my church, is what the LORD placed in the hearts of Judith and Eugene Saunders. Little did they realize that the LORD was calling them to "Boulder", Colorado. Eugene has been a pastor and professor for over 25 years and Judith is a full-time student for a Biblical and Messianic Jewish Studies degree.
Eugene and Judith Saunders met and married in the Dallas- Fort Worth, Texas area after both answering the LORD's call to Jewish ministries. Shortly after this, the LORD called them to plant a Church in Boulder, Colorado with special ministry focus on work with the Jewish community. Boulder has an estimated 26% Jewish population (neighboring Denver, Colorado has a 27% Jewish population). This statistic indicates that over 26,000 people, many of whom are seeking spiritual answers and connections, have a background in Torah or familial connection to Israel. They are hungry for Jesus (or Yeshua), their own Jewish Messiah. Sadly, many seek other answers and are left empty.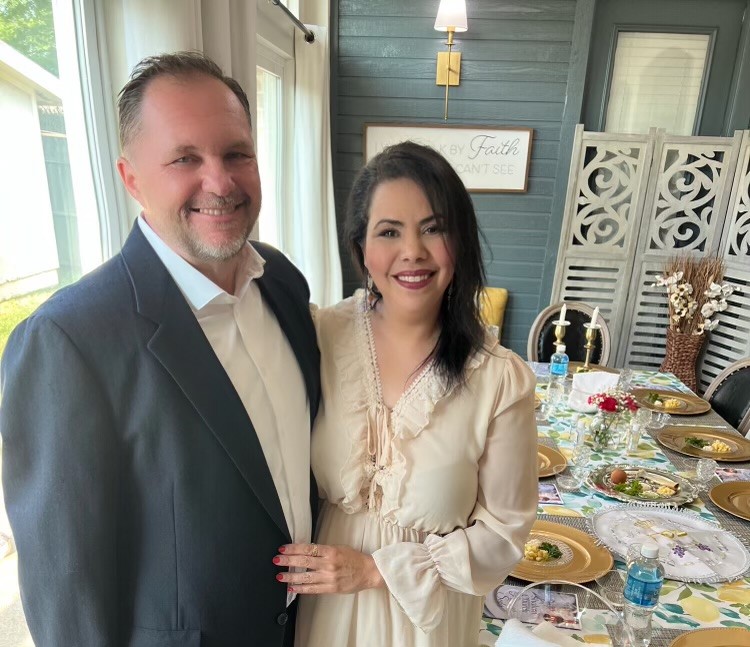 We are Marcus and Kayla Mackey and have been married since 2011, we have three children: Eliza, Hattie, and Judah. We have served at a church in Kansas City for the past ten years. In the fall of 2021, we sensed God leading us to step out in faith and plant a church in Indian Hills, CO. 
Currently, there are zero churches in this community. Not only are there no churches, but statistically, 9 out of every 10 people you meet are unchurched. This is a problem for us because we believe that every community needs a church because every community needs the gospel of Jesus. 
Center Church is a new church plant in southwest Denver that believes that God has made it very clear what He wants at the center of His church. When reading the Scripture, we see that God wants His people to love Him, to love one another, and to make disciples. This is what the church has been doing for over two-thousand years and this is what the church will continue to do. The church is ancient, yet He is doing a new thing. Center Church believes in holding this tension. Pastor Mitch Lynn and his lead team believe in being theologically rooted in the ancient Scriptures and in the foundation that the historical saints have laid that has lasted generations while also being innovative in the methods used. Ultimately the mission is clear: Center Church exists to create communities that grow together as daily disciples and love like Jesus where they are. 
David and Victoria Henderson relocated to Utah in September 2020. They long to be part of a move of God that drastically changes the LDS-saturated culture and landscape of the state. They want to reach their neighbors and plant in Daybreak, one of the top five fastest growing communities in the nation.
Less than 2% of Utahans have a saving relationship with Jesus. The cultural landscape of Utah demands that people measure up to an impossible standard, and many are crushed under that weight. There are countless people moving into Daybreak - the 2nd fastest growing community in the nation - and experiencing major life transitions in the epicenter of this keep-it-together culture. We want to help them build their new normal around a life-changing relationship with Jesus.
We started hosting Church in the Living Room on August 21, 2022 and have averaged 20 people each Sunday. Since starting Church in the Living Room, our launch team has grown from three families to eight! On October 15, our team served together for our first-ever ENGAGE Day. We did yard work and fall cleanup for five households who could not do it on their own, right in our neighborhood!
A new adventure begins at Grace Mountain Church in Colorado Springs, Colorado!  Since August of 2022, Grace Mountain Church (an established church with over 50 years of history) and Beyond the Walls Community Church (a two-year-old church plant) have joined together under the leadership of Pastor Dave Nickodemus to begin creating a new church together!  This new church is in the same location and has the same name: Grace Mountain Church, but there is a new mission ("Equipping people to bring the hope of Jesus through love, service and laughter) and a new excitement!  The church is planning a launch Sunday for the fall and is letting the neighborhood and the community know that there is new life in this old church building!