Forefront Church at Harvey Park
Description of Our Church and Our Community.
Our vision at Forefront is to build a Jesus-focused movement in the Front Range and beyond! Forefront is a place for people to be real and find other believers who are walking through the same things in life. We celebrate the wins together and we walk through the lows as a family. We believe that God has placed us right where He wants us in SW Denver to help connect the people in our neighborhoods, workplaces, and social circles to Jesus.  It has been so amazing to watch God bring together such an incredible and diverse church who all have one major thing in common -- Jesus!
Forefront is a neighborhood church, set right next door to the beautiful and historic Harvey Park. Our address is Denver, but we are just down the road from Lakewood, Littleton, and Englewood. This is a really fun part of the city!
What Forefront Church Does Really Well
At Forefront we are all about community. Whether it's our LifeGroups or our Dream Team (Ministry Teams), we love doing life together! Our LifeGroups have been such an anchor for our church family during this pandemic. Our church family has a heart to be on mission with Jesus and are always looking for opportunities to serve the community around us.
God Sightings at Forefront
Over the course of this pandemic, we continue to see examples of radical generosity over and over again. Just over a month ago, one of our missionary partners came and gave an update on the challenges they are facing in Guatemala in feeding hungry families due to the challenges with Covid. In a private conversation, our partner shared that they were significantly impacted financially, and had already spent their entire budget for 2021 to help feed the hungry. We asked how much they thought they needed to continue to operate, and we found out they needed to raise $120,000. The next Sunday, we had a family at Forefront who had no knowledge of this need, donate $100,000 and specify that it goes to missions. The God we serve is so big and always faithful!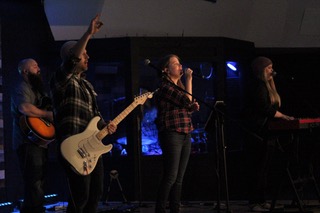 How People Can Pray for Forefront
Please pray for wisdom in how to find unique ways to love our community and connect people to Jesus.
Please pray for the families in Forefront who have had sick family members or who have been impacted financially because of the pandemic.
Please pray for opportunities around us to help other churches who have fallen on difficult times to continue to proclaim the truth of Jesus in our city.