Living Water Bible Fellowship began in 1974 when three families began meeting for Bible study in Alamosa. They saw a need and began praying about starting a new church. An early purpose statement from the group from 1975: "The San Luis Valley is in desperate need of a good Bible teaching church. In an area where false religion holds free reign, the work of taking Christ to the people will not be easy." Through the help of Converge Rocky Mountain (BGC back in the day) the church organized in 1976. Today, Jeron and Elizabeth Parkins continue to pursue this dream by seeking to help others come to know and follow Christ, journey is spiritual community together, and serve to make disciples.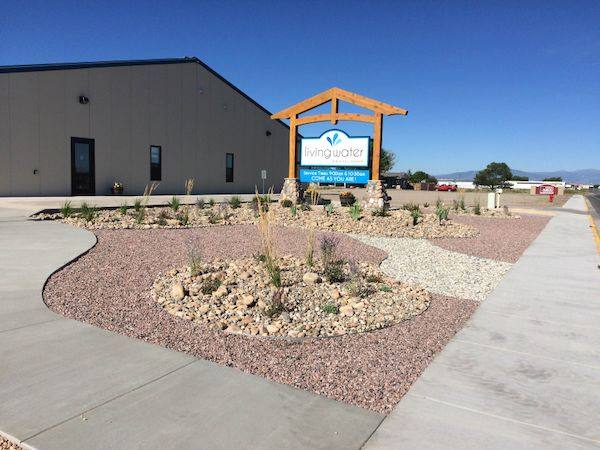 In late 2019 we started planning on another facility expansion, this one dedicated to Christian Education, community, and non-profit use. We signed the contract in Spring of 2020, just after churches started shutting down due to Covid. We pre-purchased as much as we could, and our contractor said we saved over a million dollars by moving quickly before prices of materials started to rise. Our people have given about 1.3 million towards our three-year fundraising goal (ending in December of 2022) of 1.8 million. Total cost should be around 3.2 million. We are praying for God to make us debt free as soon as possible. Labor shortages have pushed back the expected opening date, but we hope to have this tool up and running by January of 2022.
How Can We Pray For Living Water Bible Fellowship?
We are realizing that the impact of Covid has made. Even small-town people more reluctant to intentionally connect in community. If we are to keep the gospel before people and have a witness with our neighbors, we understand that we must go to them. We believe that God still has a mission for us in the San Luis Valley to lead people to a life-changing and ever-growing relationship with Jesus Christ. Please pray for Living Water Bible Fellowship as we adjust to this new culture, and we learn again what it means to be sent.
Where can we connect with Living Water Bible Fellowship?
Through our Facebook @lwbfalamosa and on our website https://www.livingwateralamosa.org/